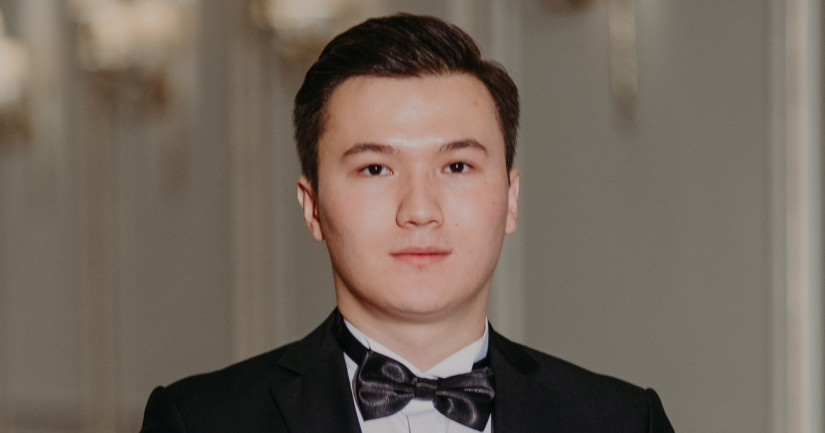 Koshkinbayev, Dinmukhamed
No. 24
Voice type: Baritone
Country: Kazakhstan
Date of birth: 28 March, 1997
Dinmukhamed Koshkinbayev was born in Zhambyl oblast Kazakhstan. In 2013–2017 studied academic vocal at the Tchaikovsky Musical College. In 2018 studied at the Kurmangazy Kazakh National Conservatory. Now he is a student of the Astana International Academy of Astana Opera Kazakhstan.
Winner of the International Competition of Vocal Art named after K. Kenzhetayev and Sh. Beisekova.
Grand Prix winner of the singer's competition named after Ye. Khasangaliev.
Grand Prix winner of "Russian Romansiada" Republican Competition.  
Second degree laureate of Republican Singer's Competition named after M. Tulebayev.
Grand Prix of the XI Bibigul Tulegenova International Vocal Competition
Competition Repertoire
Preliminary
Liszt: Lasst mich ruhen
Händel: Dignare o Domine – aria from Dettingen Te Deum, HWV 283
Giordano: Nemico della Patria?!... Un dì m'era di gioia – Gérard's recitative and aria from Andrea Chénier
Semi-final
Verdi: Di Provenza il mar, il suol – Germont's aria from La traviata
Tchaikovsky: O, Mariya, Mariya! – Mazeppa's aria from Mazeppa
Final
Verdi: Son io mio Carlo... Per me giunto... Io morrò – Rodrigo's recitative and aria from Don Carlo
Tchaikovsky: Vy mne pisali… Kogda by zhizn domashnim krugom – Onegin's recitative and aria from Eugene Onegin
Donizetti: Cruda, funesta smania – Enrico's aria from Lucia di Lammermoor